CHABOT DEVELOPMENT SERVICES
A chatbot is the result of human connection with artificial intelligence: a robot that naturally reacts to messages entered by the user in the visit. Chatbot empowers organizations to convey robotized client support, internet business direction, substance and intelligent encounters through the informing stage. They give incredible technique for drawing in clients on stages where they are accessible in colossal numbers. So in the event that you have a huge Facebook fan base, it's an ideal opportunity to use that. As a primary chatbot development services company, we offer a full chatbot development solutions for Facebook, Twitter, Slack, Kik, and WeChat. We unquestionably separate ourselves from other chatbot development services companies.
Dificulty to find residents inside the facility
Residents missing their meal schedules
Residents with mobility limitations trying to go downstairs
Process for Chatbot Development Solutions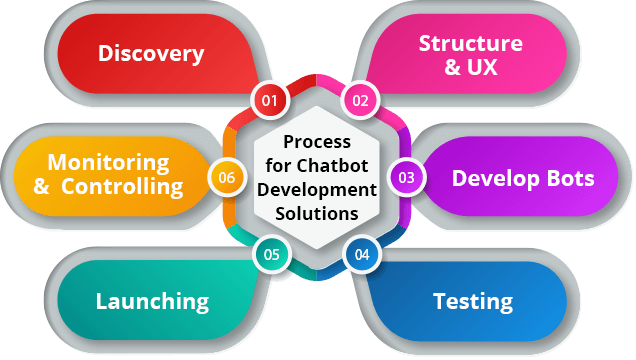 Our Chatbot Development Offering
24*7 Support
Reduces Expense
Immediate Respose
Secure Communication
Less Workload for Team
Why Choose Us as Your Chatbot Development Services Company?
We are trusted chatbot development services company in USA that assembles best-in-class chatbots. Aside from tending to the regular request, our very refined and AI controlled chatbots will warmly welcome your site guests, automatically route chats to the concerned departments, help users get through troubleshooting process and much more. we have a dedicated chatbot development team with experience in building production-ready chatbots for different channels such as Facebook Messenger, Slack, Telegram, Skype etc.