Connect To The World With
INTERNET OF THINGS(IOT) APPLICATION DEVELOPMENT SOLUTIONS
Internet of Things(IoT) application development interfaces every single physical gadget with Internet to empower a trade of information. It tends to be encouraged through various interfaces and gadgets to make life advantageous. It uses information trade or sensor utilizing various methods for correspondence like Bluetooth, Wi-Fi, NFC, iBeacon, Bluetooth Smart, Rfid and so forth to make an extension between physical gadgets and supporting them to speak with one another.
Why Choose Us as Your Internet of Things(IoT) Application Development Company?
At ABTech Solutions, Internet of Things(IoT) Applications Development Services incorporate software just as equipment support with the goal that customers can get total solutions at one goal. We have accomplished capacity in structure Ios and Android Applications for IoT utilizing various mediums. We oversee everything from the solace of your cell phone and you can draw in with your framework utilizing a devoted mobile application.
Our Approach to Internet of Things(IoT) Architecture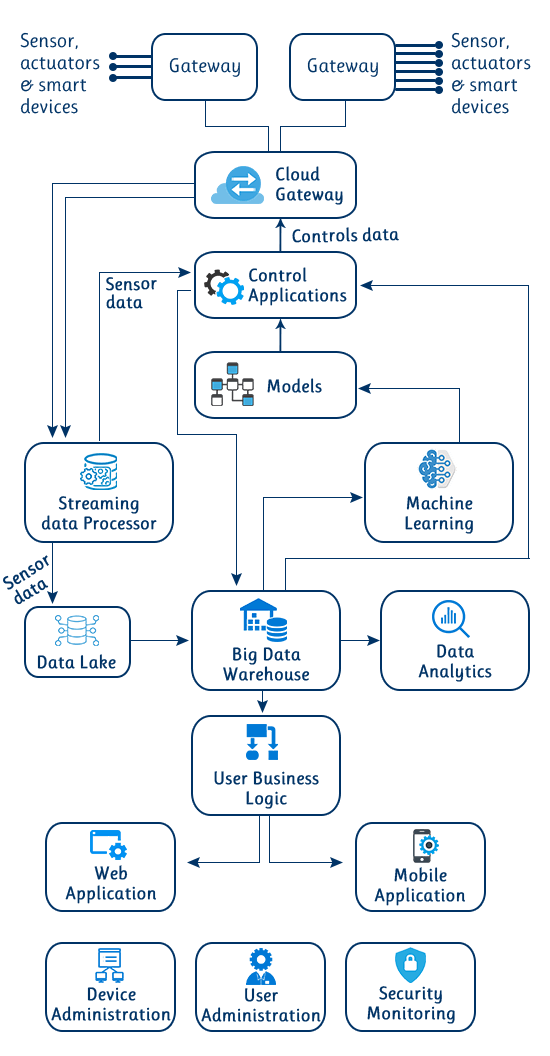 Our Internet of Things(IoT) Application Development Services Include
At AbTech Solutions, we provide a complete range of Internet of Things(IoT) Application
Development services using the latest technology and proficiency of our team of Internet of Things
applications developers. Our expert Internet of Things(IoT) application development solutions help you to transform
your devices into smart devices. Our range of services includes: