Re-Engineer Your Software To Protect And Leverage Your IT Investment
PRODUCT RE-ENGINEERING SERVICES
Product re-engineering is tied in with changing a current product. It is tied in with fixing its bugs and blemishes, including new features alongside guaranteeing lowered down-times. Reverse engineering is one technique which in all respects normally utilized in Product re-engineering. The thought behind product re-engineering is to improve the presentation of a specific product by consolidating new features and functionalities to it. To enable associations to achieve their business objectives, we gain by our broad experience of utilization re-engineering development services. ABTech  Solutions has a demonstrated re-engineering development strategy that assesses the interests in heritage frameworks via carefully investigating the inheritance application set and business rationale, and after that mining with an instrument based methodology. Our re-engineering development services technique contains information relocation, an innovation movement framework utilizing device based reverse engineering, and forward engineering.
Architecture Consulting & Roadmap Definition
Product Enhacement
Code Restructuring & Re Factoring
Re Documantion
UX Modernization & Re Building
Prototyping & Ideation Services
Design Scalable Architecture
Process of Product Re-Engineering Development
We minimize product re-engineering services by using efficient ways of system migration. Our developers are familiar with the most effective tools to simplify the process.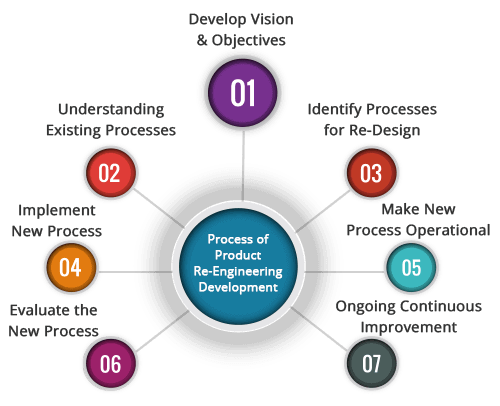 Why Choose Us as Your Product Re Engineering Development Services Company?
ABTech Solutions considers product scalability and flexibility as key design objectives while product re-engineering development. We offer end-to-end product re-engineering development services. We also help in extending the product to new areas so as to address a larger market segment. We have customized solutions for clients in industries that include oil and gas. ABTech Solutions has been a one-stop solution providing end to end integrated solutions. We took up the total ownership of re-engineering their solution involving hardware, firmware and system software. We can independently or with the collaboration of the technical teams of the client, take up major enhancements of the product re-engineering development which would help extend the life of the product in the market. We also cater to the varied requirements of the customers.